Ett Hem, Stockholm
Make yourself at home at this elegant boutique hotel, your 'home away from home'. Scandi-chic at its best.
Ett Hem
Sköldungagatan 2
114 27 Stockholm
Sweden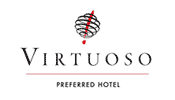 Ett Hem in Swedish means 'a home' and this elegant hotel really makes a perfect 'home away from home', and even takes that concept to new heights. It's like you expect to take the dog for a walk before breakfast, or having guests coming for dinner.
You feel like you're staying over at a friend's house, pour yourself another drink from the bar in the lounge, go to the marble hammam to relax or why not treat yourself to a few tempting toffee sweets while relaxing in front of the fireplace. It's just the dog missing, really.
We've all seen the interior design style 'Scandi-chic' in glossy interiors magazines, and here it all comes alive with sheepskin rugs, scented candles, crystal chandeliers and tiled stoves.
It's the small touches that makes this hotel close to 'home hotel' perfection, like the fresh bar accessories such as sliced lemon and lime in your room, the full size bottles of beauty products, the home-made chocolate cake on display in the kitchen.
The bedrooms are kitted out with iPads featuring Stockholm guides and the 'How to Spend it' app, making you want to head out and enjoy this modern bustling city.
To really get a sense of this city, it is worth seeing it from the water, so why not take a guided boat tour or head to Östermalmshallen (the local indoor market) and explore the local delicacies.