Palazzo Manfredi, Rome
A unique masterpiece hotel with breathtaking views of the Colosseum, where the view matches the cuisine at the rooftop Michelin restaurant.
Palazzo Manfredi
Via Labicana 125
00184 Roma RM
Italy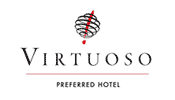 Palazzo Manfredi is an elegant 16 room boutique hotel gem, which offers an undeniably romantic and intimate atmosphere, all complete with glamorous décor, stunning Colosseum views and Michelin star-rewarded cuisine.
In ancient Rome, just a few metres from where Palazzo Manfredi now stands, were four barracks, accommodation and training school for gladiators fighting in the Colosseum.
The boutique hotel is tastefully adorned with art ranging from 16th century antique paintings to more colourful and playful contemporary pieces.
The rooms are designed with a chic masculine style, and they feel surprisingly Parisian at times. The Colosseum suite has a large tempting whirlpool bath and a private gym, but all rooms come with an incredibly romantic ambience that few hotels can replicate.
The world's most famous amphitheatre looms large in the views from the suites and the Master rooms, and the hotel is also brilliantly placed for Rome's main ancient Roman sites.
The Concierge service is excellent offering well-informed and unbiased advice on where to start exploring this amazing city. They are on hand to satisfy your every need, to ensure you feel at home from the moment you arrive.
At Michelin starred Aroma, Roman luxury is reflected in a menu of classical Italian dishes with a modern Mediterranean approach, and chef Di Lorio has certainly a flair for fresh ingredients and ideas. The intimate 40 seat restaurant offers unparalleled views of Colosseum.