Punta Tragara, Capri
Like an eagle's nest, perched on the highest rock in Capri with the most spectacular views overlooking the Marina Piccola Bay, and just steps from Capri's historic Piazzetta.
Hotel Punta Tragara
Via Tragara, 57
80073 Capri NA
Italy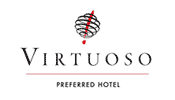 Punta Tragara is probably Capri's most impressively located hotel, and was designed in the 1920's by French architect Le Corbusier. It's a vertical slice of paradise and was at the time one of the most elegant private villas on the island, and today it's an iconic luxury boutique hotel with 44 beautiful bedrooms, including six utterly unforgettable suites.
Interior designer Giorgia Dennerlein has made no two rooms the same, and it's an innovative design, in which antiques and contemporary touches go really well together.
Capri is simply a triumph of flavours. At the Monzù restaurant, the terrace is suspended between the sea and the sky, and you'll never forget the views of Marina Piccola Bay and the Faraglioni rock formation.  From the fish delivered directly to the hotel by the island's own fishermen each morning, to the wonderfully succulent lemons, only the freshest of locally-sourced ingredients are used at Punta Tragara's two well-known restaurants.
Monzù's chef Luigi Lionetti's success story is based on the philosophy of cooking using only the products of the land, and the menu includes many historical Capri favourites and Neapolitan dishes. Simplicity, quality and passion are simply the secrets of this regional cuisine, incredibly popular with the hotel guests.
The Mammà Restaurant can be found a stone's throw from Capri's famous Piazzetta, and the Concierge will be delighted to reserve an exclusive table for the hotel guests.
Occupying one of the most peaceful and secluded parts of the hotel, the Unica Spa at Hotel Punta Tragara is the perfect place in which to relax and regenerate. Here you can discover a whole host of Physio Lab treatments. Four treatment rooms are available, offering an impressive range of luxurious face and body treatments and each room has its own outside relaxation area.